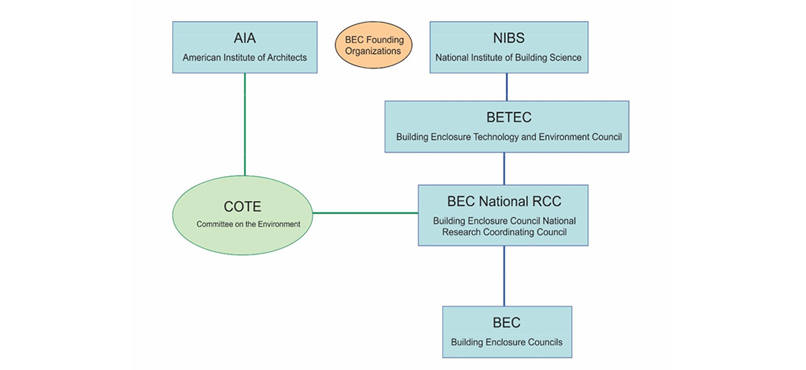 The Building Enclosure Council of Iowa (BEC-Iowa) is a Nonprofit Corporation that was founded in 2016 to increase awareness of building enclosure design as a critical aspect of the successful construction of buildings and to foster the education of building industry professionals regarding proper design, construction, and maintenance of building enclosures.
The Building Enclosure Council (BEC) initiative was established by an agreement between the American Institute of Architects and the Building Enclosure Technology and Environment Council (BETEC) of the National Institute of Building Sciences on May 18, 2004. You can find more information on the Building Enclosure Council – National's website.
Our Mission
BEC-Iowa is an interdisciplinary network of affiliated architects, engineers, consultants, manufacturers, contractors, developers, owners, facility managers, educators, students, and other interested individuals. The intent is to provide a forum for the construction industry by which all those with an interest in the enclosure (envelope) of commercial, institutional, and residential structures and the related building science can discuss, learn about, and address the common and local issues and science relating to the building enclosure – the exterior systems of buildings that play a critical role in building performance, energy efficiency, and occupant health, comfort and safety.
Our purpose is to:
Promote and encourage discussion, training, education, technology transfer, and the exchange of information about local issues and cases, relevant weather conditions, and all matters concerning the building enclosure and the related science.
Initiate and promote cross-disciplinary and cross-responsibility dialogue, i.e., laterally between professions, and vertically among designers, manufacturers, suppliers, fabricators, constructors, building operators, developers, insurers, and others with an interest in the building enclosure.
To facilitate improvements in relation to process – namely, design, construction, inspection, approvals, codes, regulations, standards, liability matters, and the like for matters that affect the building enclosure.
Meetings
BEC-Iowa meets bi-monthly, with meetings typically occurring on the third Friday of the month.  At these meetings, members and guests share highly relevant information and innovative ideas on design and construction practices, research, and case studies.
The cost for BEC-IA meetings is $10 for members and $20 for non-members. For the best return on your membership investment, consider a Member Package. This one-time membership fee includes the cost to attend all of our standard events!
We also encourage all interested individuals to subscribe to our free email list to stay up to date on our local and national events.
Unless an alternative venue is selected, our regular meetings take place at the Oran Pape Building:
215 East 7th Street
Des Moines, Iowa
Want to get involved?
We encourage anyone with an interest in achieving higher performing, resilient, and more energy-efficient buildings to join, learn, and make contributions. Contact Us for more information.
Join Our Mailing List
Stay informed through BEC-Iowa's free mailing list!
AIA Continuing Education Provider
BEC-Iowa is proud to be an AIA Continuing Education Provider, and we are always interested in developing our educational offerings. Please contact us if you are interested in presenting and need to have your course submitted for approval.