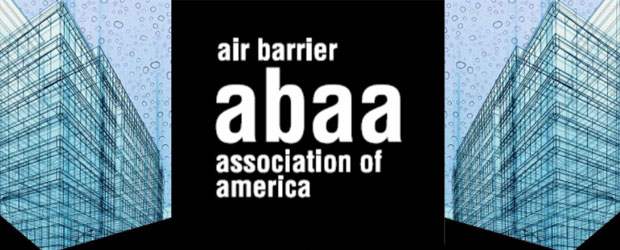 Air Barrier Symposium
Building enclosure and barrier education from some of the foremost experts in building enclosures, air barriers and building airtightness
The Air Barrier Association of America (ABAA) in collaboration with BEC-Iowa and BEC-St. Louis, is excited to invite you to a comprehensive educational symposium on "AIR BARRIERS".
Presented by well known experts from the ABAA, the program will encompass three learning sessions on the air barrier, which is key to designing and constructing buildings to meet today's building and energy code requirements.
This is a FREE virtual event open to members and the general public.  Registration is required.
THE PRESENTATIONS
8:15 am – 8:30 INTRODUCTIONS & WELCOME
8:30 am – 9:30 am
THE BIG DISCONNECT– THE IMPORTANCE OF WALL TO ROOF CONNECTIONS FOR THE AIR BARRIER
Presented by: ROY F. SCHAUFFELE, FCSI, CCPR, FABAA, LEED Green Associate, CABS, Division 7 Solutions President, ABAA Regional Advocate, ABAA Executive Committee Member, Immediate Past-Chair – ABAA
As more states, jurisdictions and the design community require air barriers, the issue of connecting the wall air barrier assembly to other building assemblies, such as below grade, window systems and roofs need to be completely understood in order to design and construct a functioning building enclosure.
One of the most often missed or not well executed details is the connection between the wall air barrier and roof assembly. With a myriad of roof systems, wall configurations and the growing number of wall air barrier products, it can be difficult to navigate the process in regards to what systems work best with each other and the chemical compatibility of these systems.
This presentation will focus on things to consider from a design standpoint, along with practical approaches to ensuring a robust connection is constructed and executed. (1 hour, 1.0 CEU/HSW)
9:30 am – 9:45 BREAK
9:45 am – 10:45 am
THROUGH-WALL FLASHINGS COMPATIBILITY, SUSTAINABILITY & PERFORMANCE
Presented by: Craig Wetmore, ABAA Board Member; Chair of ABAA Marketing Committee; Executive Committee Secretary of ABAA; President of York Flashings
With all the myriad of building enclosure components and materials, there is a significant risk to ensure that all materials are compatible and work together as a system. An important part of a water control strategy for your walls requires integration of the air barrier, water resistive barrier, insulation and other related components, including through-wall flashing. Not all assemblies work together and there are specific steps needed to ensure proper water drainage. This presentation will provide an overview of all flashing choices that can be selected and specified and provide information on how to make product selections and what materials are not compatible in a system. Real life examples of various systems and transitions will provide attendees with an understanding of the successful construction of these components. (1 hour, 1.0 CEU/HSW)
10:45 am – 11:00 am BREAK
11:00 am – 12:00 pm
OH NO! WHAT DID I MISS? HOW TO PROPERLY SPECIFY AN AIR BARRIER SYSTEM
Presented by: Laverne Dalgleish, ABAA Executive Director; Principal, Building Professionals, Executive Director of the National Air Barrier Association
Design and Construction documents are one of the first steps towards achieving an effective layer of airtightness to manage moisture and air movement. The importance of a proper specification cannot be understated, and a well-articulated document will ensure that the owner is provided with materials, performance and quality.
The presentation will review some of the consideration and language that should be reviewed prior to developing a specification and will outline code requirements, performance requirements, what can be done for quality and ensuring material selection meets the intent of design and for crucial coordination with other components of the enclosure. (1 hour, 1.0 CEU/HSW)
12:00pm WRAP UP MEETING
CLICK HERE to register
Attendees will earn 3.0 CEU/HSW 2.0 GBCI