Adaptive Facades Symposium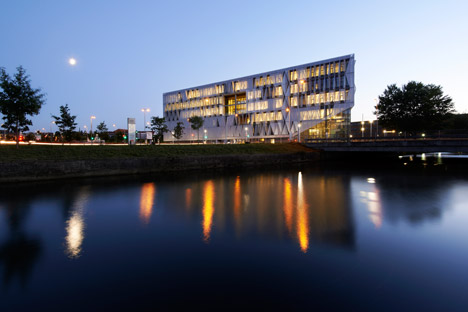 ADAPTIVE FACADES
Building facades, like the human skin, have to mediate a large variety of external parameters and conditions, such as sun, heat, wind, water. Facades' which can change according to these conditions based on their material, mechanical or kinetic properties have been an architect's dream for many decades. Like the lens of the camera or eye these façade should be able to adapt to changing external or internal conditions. Material development, digital manufacturing and computational advances in respect to parametric environmental building performance modeling have advanced thus far, that adaptive facades are the current and future innovations constructed to mediate, sun, light and heat to provide more energy efficiency, more comfort, more conceptual freedom and more opportunities for occupants to adjust their environment to their individual requirements.
Join us to explore the current innovations and future potential of adaptive facades with speakers from Transsolar KlimEngineering, New York City; Eckersley O'Callaghan Engineers, San Francisco; Henning Larsen Architecture, Copenhagen; DOSU Studio Architecture, Los Angeles; and Delft University of Technology/TU Darmstadt.
9 a.m. – 6 p.m. Thursday, April 19, 2018
First Floor North, Scheman Building, Iowa State Center
Ames, Iowa
Register Now!
Registration is free for ISU faculty and students and $50 for design professionals. Register online.  5 AIA continuing education units available.