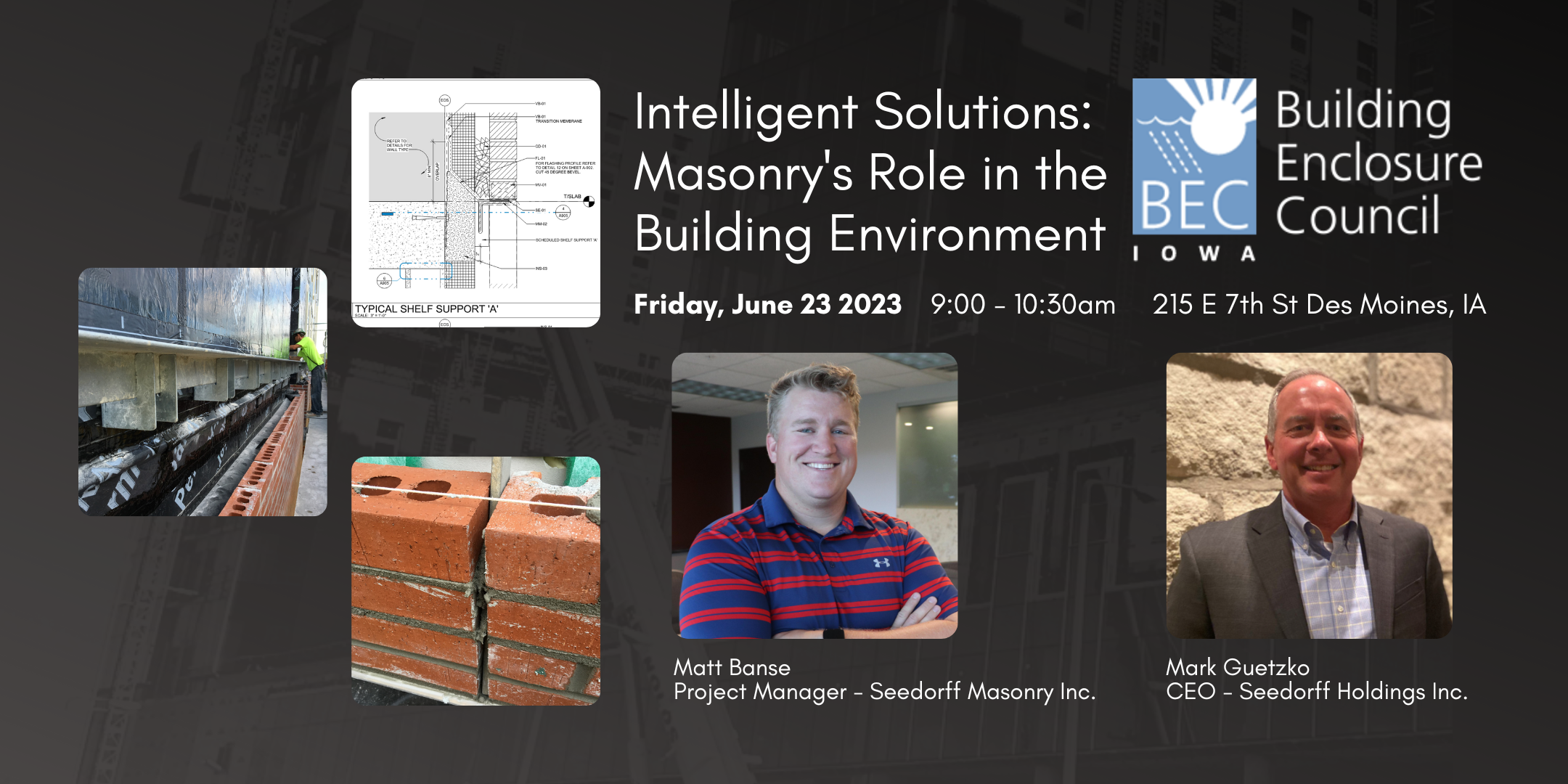 Intelligent Solutions: Masonry's Role in the Evolving Building Envelope
Date and Time:
Friday, June 23, 2023
9:00 AM – 10:30 AM
Location: 215 East 7th Street, Des Moines, IA
Presented by:
Mark Guetzko, CEO, Seedorff Holdings
After joining the Seedorff Team in 1988, Mark has served in a variety of support and leadership positions over 33 years, and currently serves as CEO of Seedorff Holdings. Mark's visionary approach to problem-solving and his ability to identify untapped opportunities have lead Seedorff to innovative solutions and growth. His understanding of the construction field and strategic thinking contribute to the company's continued expansion and industry leadership.
Matt Banse, Project Manager, Seedorff Masonry
With over 9 years of experience between masonry sales and the construction industry, Matt brings a variety of experience to the Seedorff team. His extensive knowledge of brick, concrete and all things masonry helps Matt to not only trouble shoot masonry details, keep projects on schedule and in budget, but also lends to a quality delivery of each project he manages. Matt is also President on the Board of Directors for the Masonry Institute of Iowa.
Presentation Summary:
This course will provide an overview of the evolution of the building envelope, and its impact on performance; moisture management in masonry assemblies to prevent infiltration that could compromise the indoor environment, changing project delivery systems, and emphasize best practices during design and construction of masonry projects.
Tickets:
$10 BEC-Iowa Members
$20 Non-Members
Have a Membership Package? This event is FREE!
CLICK HERE to register
This course has been approved for continuing education credits. Attendees can earn 1.5 HSW/LU (AIA).
Please submit your AIA number during your Eventbrite Registration